Written by Winston Atkins, Preservation Officer
Monday, 20 February 2012 at 2:00-4:00 p.m.
Perkins Library, Room 217 (Free and open to all)
Please join us for a showing of "Florence: Days of Destruction," Franco Zeffirelli's rare documentary of devastation to the city of Florence, Italy, and the art and cultural history in its museums, archives, and churches. This copy of the film, part of the University of Maryland Libraries' collections, is one of very few in existence.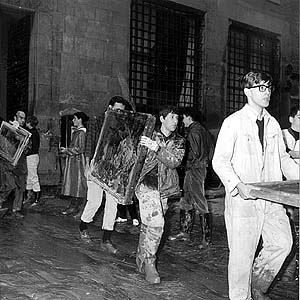 When the Arno River overflowed its banks on November 4, 1966, it overwhelmed Florence, Italy, one of the world's great cultural centers. Franco Zeffirelli, busy editing "The Taming of the Shrew," quickly assembled a crew to document the damage suffered by a city filled with historic architecture, art, books and archives. His film, narrated by Richard Burton, reportedly raised $20 million for the relief effort. Those efforts culminated in an international rescue and salvage effort that fundamentally changed approaches to the preservation of cultural property.
Bryan Draper, the University of Maryland Libraries' Collections Conservator, will host this showing. He will also display a collection of printed materials relating to the Florence Flood and its aftermath.
Co-sponsored by the Duke University Libraries' Conservation Services and Preservation Departments.
Image from CultureGrrl.