Happy holidays! For those of you who have left campus, don't forget that you can take the library home with you! All the titles listed below – a mix of ebooks and audiobooks – are currently available to borrow immediately from our Overdrive collection.
If you're on campus, come relax and browse our New and Noteworthy and Current Literature collections, borrow movies from Lilly, and borrow CDs from the Music Library.
---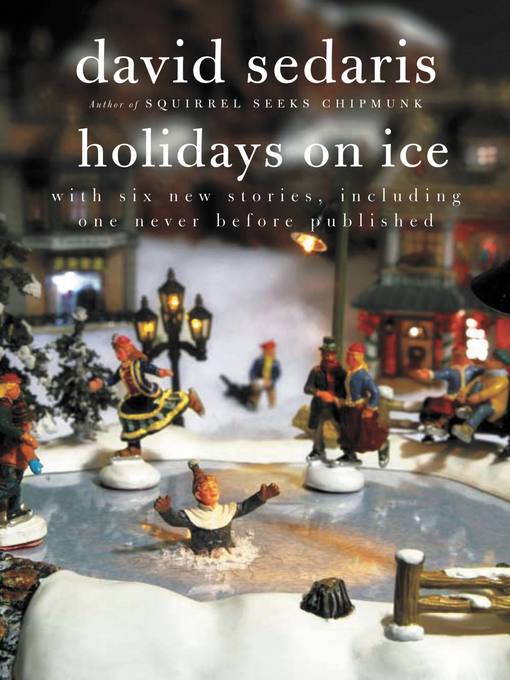 Holidays on Ice by David Sedaris. E-book.
David Sedaris's beloved holiday collection is new again with six more pieces, including a never before published story. Along with such favoritesas the diaries of a Macy's elf and the annals of two very competitive families, are Sedaris's tales of tardy trick-or-treaters ("Us and Them"); the difficulties of explaining the Easter Bunny to the French ("Jesus Shaves"); what to do when you've been locked out in a snowstorm ("Let It Snow"); the puzzling Christmas traditions of other nations ("Six to Eight Black Men"); what Halloween at the medical examiner's looks like ("The Monster Mash"); and a barnyard secret Santa scheme gone awry ("Cow and Turkey").
---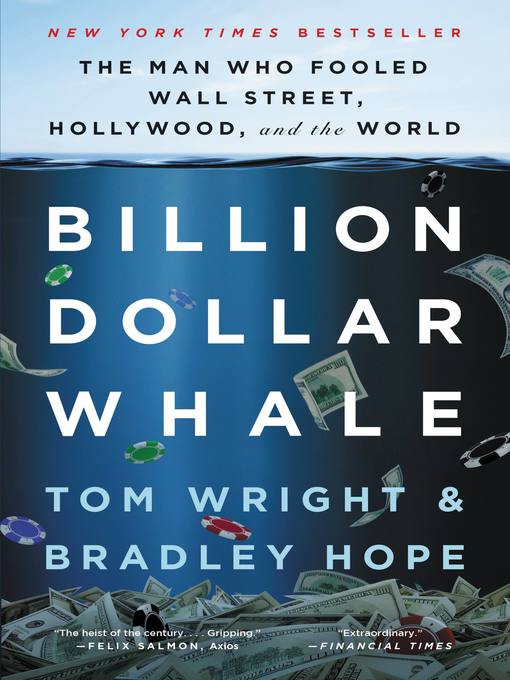 Billion Dollar Whale: The Man Who Fooled Wall Sreet, Hollywood, and the World by Tom Wright and Bradley Hope. E-book.
In 2009, a chubby, mild-mannered graduate of the University of Pennsylvania's Wharton School of Business named Jho Low set in motion a fraud of unprecedented gall and magnitude—one that would come to symbolize the next great threat to the global financial system. Over a decade, Low, with the aid of Goldman Sachs and others, siphoned billions of dollars from an investment fund—right under the nose of global financial industry watchdogs. Low used the money to finance elections, purchase luxury real estate, throw champagne-drenched parties, and even to finance Hollywood films like The Wolf of Wall Street.
By early 2019, with his yacht and private jet reportedly seized by authorities and facing criminal charges in Malaysia and in the United States, Low had become an international fugitive, even as the U.S. Department of Justice continued its investigation.
---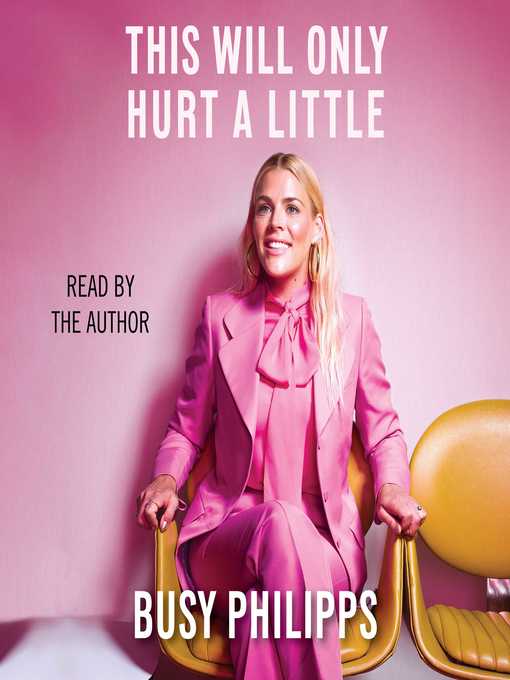 This Will Only Hurt a Little by Busy Philipps. Audiobook.
There's no stopping Busy Philipps. From the time she was two and "aced out in her nudes" to explore the neighborhood (as her mom famously described her toddler jailbreak), Busy has always been headstrong, defiant, and determined not to miss out on all the fun. These qualities led her to leave Scottsdale, Arizona, at the age of nineteen to pursue her passion for acting in Hollywood. But much like her painful and painfully funny teenage years, chasing her dreams wasn't always easy and sometimes hurt more than a little.
In a memoir "that often reads like a Real World confessional or an open diary" (Kirkus Reviews), Busy opens up about chafing against a sexist system rife with on-set bullying and body shaming, being there when friends face shattering loss, enduring devastating personal and professional betrayals from those she loved best, and struggling with postpartum anxiety and the challenges of motherhood.
---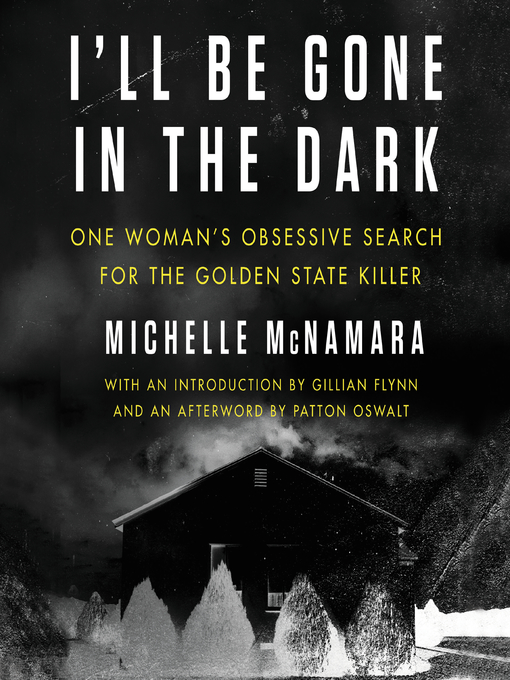 I'll Be Gone in the Dark: One Woman's Obsessive Search for the Golden State Killer by Michelle McNamara. Audiobook.
For more than ten years, a mysterious and violent predator committed fifty sexual assaults in Northern California before moving south, where he perpetrated ten sadistic murders. Then he disappeared, eluding capture by multiple police forces and some of the best detectives in the area.
Three decades later, Michelle McNamara, a true crime journalist who created the popular website TrueCrimeDiary.com, was determined to find the violent psychopath she called "the Golden State Killer." Michelle pored over police reports, interviewed victims, and embedded herself in the online communities that were as obsessed with the case as she was.
I'll Be Gone in the Dark — the masterpiece McNamara was writing at the time of her sudden death — offers an atmospheric snapshot of a moment in American history and a chilling account of a criminal mastermind and the wreckage he left behind. It is also a portrait of a woman's obsession and her unflagging pursuit of the truth. Utterly original and compelling, it is destined to become a true crime classic — and may at last unmask the Golden State Killer. Soon to be an HBO® Documentary Series.
---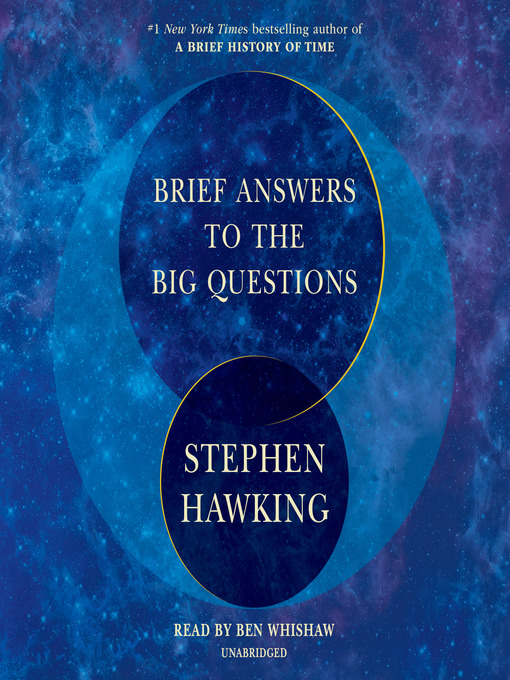 Brief Answers to the Big Questions by Stephen Hawking. Audiobook.
Stephen Hawking was the most renowned scientist since Einstein, known both for his groundbreaking work in physics and cosmology and for his mischievous sense of humor. He educated millions of readers about the origins of the universe and the nature of black holes, and inspired millions more by defying a terrifying early prognosis of ALS, which originally gave him only two years to live. In later life he could communicate only by using a few facial muscles, but he continued to advance his field and serve as a revered voice on social and humanitarian issues.
Hawking not only unraveled some of the universe's greatest mysteries but also believed science plays a critical role in fixing problems here on Earth. Now, as we face immense challenges on our planet—including climate change, the threat of nuclear war, and the development of artificial intelligence—he turns his attention to the most urgent issues facing us.
Will humanity survive? Should we colonize space? Does God exist? ​​These are just a few of the questions Hawking addresses in this wide-ranging, passionately argued final book from one of the greatest minds in history.
---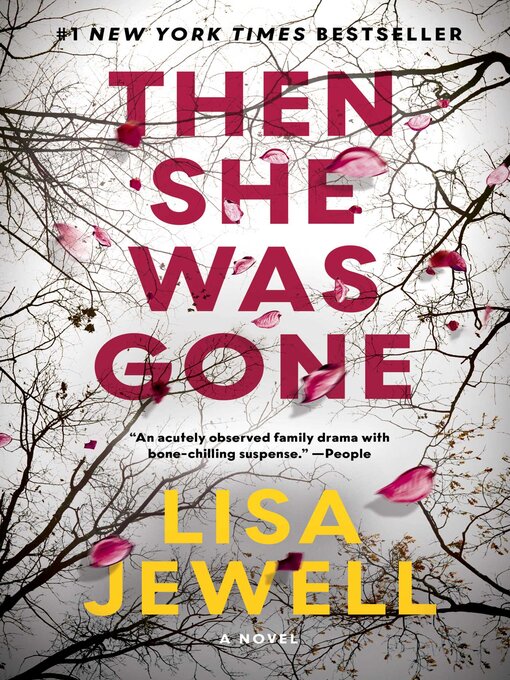 Then She Was Gone by Lisa Jewell. E-book.
Ellie Mack was the perfect daughter. She was fifteen, the youngest of three. She was beloved by her parents, friends, and teachers. She and her boyfriend made a teenaged golden couple. She was days away from an idyllic post-exams summer vacation, with her whole life ahead of her.
And then she was gone.
Now, her mother Laurel Mack is trying to put her life back together. It's been ten years since her daughter disappeared, seven years since her marriage ended, and only months since the last clue in Ellie's case was unearthed. So when she meets an unexpectedly charming man in a café, no one is more surprised than Laurel at how quickly their flirtation develops into something deeper. Before she knows it, she's meeting Floyd's daughters — and his youngest, Poppy, takes Laurel's breath away.
Because looking at Poppy is like looking at Ellie. And now, the unanswered questions she's tried so hard to put to rest begin to haunt Laurel anew. Where did Ellie go? Did she really run away from home, as the police have long suspected, or was there a more sinister reason for her disappearance? Who is Floyd, really? And why does his daughter remind Laurel so viscerally of her own missing girl?
---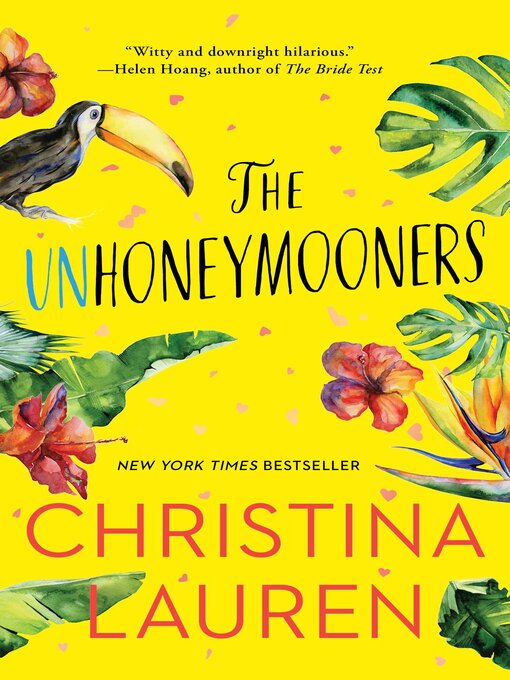 The Unhoneymooners by Christina Lauren. E-book.
Olive Torres is used to being the unlucky twin: from inexplicable mishaps to a recent layoff, her life seems to be almost comically jinxed. By contrast, her sister Ami is an eternal champion…she even managed to finance her entire wedding by winning a slew of contests. Unfortunately for Olive, the only thing worse than constant bad luck is having to spend the wedding day with the best man (and her nemesis), Ethan Thomas.
Olive braces herself for wedding hell, determined to put on a brave face, but when the entire wedding party gets food poisoning, the only people who aren't affected are Olive and Ethan. Suddenly there's a free honeymoon up for grabs, and Olive will be damned if Ethan gets to enjoy paradise solo.
Agreeing to a temporary truce, the pair head for Maui. After all, ten days of bliss is worth having to assume the role of loving newlyweds, right? But the weird thing is…Olive doesn't mind playing pretend. In fact, the more she pretends to be the luckiest woman alive, the more it feels like she might be.
---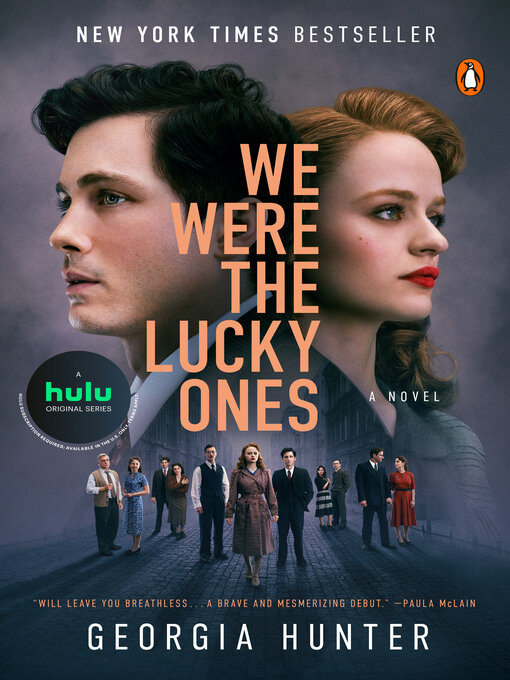 We Were the Lucky Ones by Georgia Hunter. E-book.
It is the spring of 1939 and three generations of the Kurc family are doing their best to live normal lives, even as the shadow of war grows closer. The talk around the family Seder table is of new babies and budding romance, not of the increasing hardships threatening Jews in their hometown of Radom, Poland. But soon the horrors overtaking Europe will become inescapable and the Kurcs will be flung to the far corners of the world, each desperately trying to navigate his or her own path to safety.
As one sibling is forced into exile, another attempts to flee the continent, while others struggle to escape certain death, either by working grueling hours on empty stomachs in the factories of the ghetto or by hiding as gentiles in plain sight. Driven by an unwavering will to survive and by the fear that they may never see one another again, the Kurcs must rely on hope, ingenuity, and inner strength to persevere.
An extraordinary, propulsive novel, We Were the Lucky Ones demonstrates how in the face of the twentieth century's darkest moment, the human spirit can endure and even thrive.
---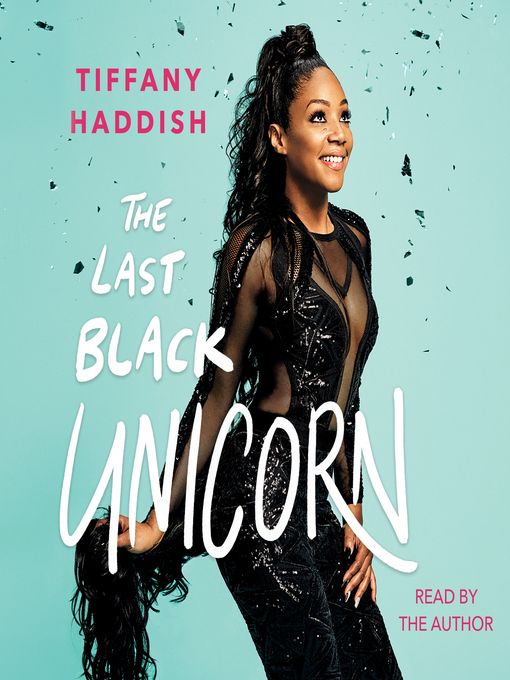 The Last Black Unicorn by Tiffany Haddish. Audiobook.
Growing up in one of the poorest neighborhoods of South Central Los Angeles, Tiffany learned to survive by making people laugh. If she could do that, then her classmates would let her copy their homework, the other foster kids she lived with wouldn't beat her up, and she might even get a boyfriend. Or at least she could make enough money — as the paid school mascot and in-demand Bar Mitzvah hype woman — to get her hair and nails done, so then she might get a boyfriend.
None of that worked (and she's still single), but it allowed Tiffany to imagine a place for herself where she could do something she loved for a living: comedy.
Tiffany can't avoid being funny — it's just who she is, whether she's plotting shocking, jaw-dropping revenge on an ex-boyfriend or learning how to handle her newfound fame despite still having a broke person's mind-set. Finally poised to become a household name, she recounts with heart and humor how she came from nothing and nowhere to achieve her dreams by owning, sharing, and using her pain to heal others.
By turns hilarious, filthy, and brutally honest, The Last Black Unicorn shows the world who Tiffany Haddish really is – humble, grateful, down-to-earth, and funny as hell. And now, she's ready to inspire others through the power of laughter.
---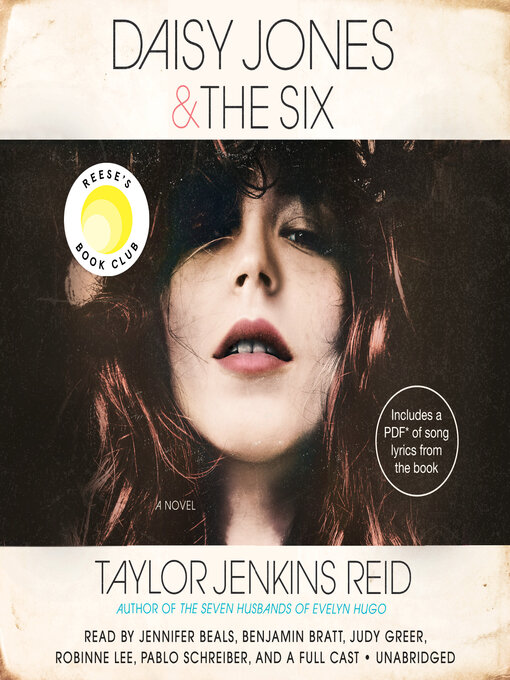 Daisy Jones & The Six by Taylor Jenkins Reid. Audiobook.
Everyone knows Daisy Jones & The Six, but nobody knows the reason behind their split at the absolute height of their popularity…until now.
Daisy is a girl coming of age in L.A. in the late sixties, sneaking into clubs on the Sunset Strip, sleeping with rock stars, and dreaming of singing at the Whisky a Go Go. The sex and drugs are thrilling, but it's the rock 'n' roll she loves most. By the time she's twenty, her voice is getting noticed, and she has the kind of heedless beauty that makes people do crazy things.
Also getting noticed is The Six, a band led by the brooding Billy Dunne. On the eve of their first tour, his girlfriend Camila finds out she's pregnant, and with the pressure of impending fatherhood and fame, Billy goes a little wild on the road.
Daisy and Billy cross paths when a producer realizes that the key to supercharged success is to put the two together. What happens next will become the stuff of legend.
The making of that legend is chronicled in this riveting and unforgettable novel, written as an oral history of one of the biggest bands of the seventies. Taylor Jenkins Reid is a talented writer who takes her work to a new level with Daisy Jones & The Six, brilliantly capturing a place and time in an utterly distinctive voice.
Includes a PDF of song lyrics from the book.
---