We are an ambitious organization, and that is a wonderful trait which directs our motivations and intentions towards good service to our users and community.  But what happens when we realize that we have so much to accomplish in a short period of time?  It can either cripple us or make us excited and frantic, like Willa Wonka's reaction when he reveals to Charlie that he has won the contest.   Within the Libraries, there are so many great ideas and valuable projects worth doing that it creates competition for the time and people available.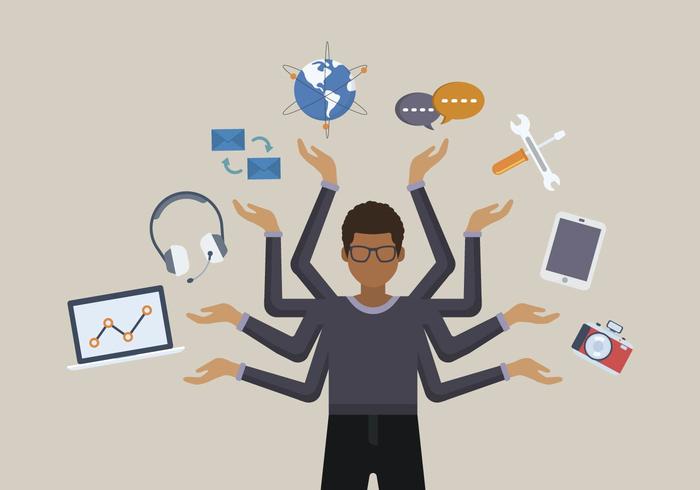 In the summer and early fall of 2017, the ITS leadership team developed a roadmap document for valuable projects we believed were established priorities for the Libraries requiring ITS resources.  The visualization was intended to be an indication of just how much was in the queue rather than a timeline of scheduling and completing projects.  Moreover, the visualization indicates how much operations and maintenance consume the capacity to do new projects, eventually and completely overwhelming opportunity for new projects.  It served its purpose of showing how even a subset of projects can look daunting, but it also only reveals a glimpse of the preparation, effort, and actual work it takes to manage multiple projects in a portfolio.  It also lacks information about the projects that are not in the roadmap or what the process should be to shift priorities when a new initiative is created, how to react to unexpected opportunities for funding, or a when a grant proposal is awarded.  Most importantly, it lacks the detail about the people involved in the projects, the most important part of project management.
The realignment of the Libraries announced this spring gave me the opportunity to reconsider staff strengths and roles in the face of the priorities already documented, and specifically I wanted to consider a new way of managing the streams of projects within the portfolio being created.  Project management, regardless of the methodology, creates a culture, and, at its best, creates an inclusive, open, collaborative, and cooperative culture.  My ultimate goal for the new Digital Strategies and Technology division is to create opportunity for that culture to develop throughout the Libraries, led by the example of DST.
At its foundation, it is important to establish that no one department owns any project completely.  Leadership may come from one department, while project staff will come from another, and stakeholders may come from one or more other departments throughout the Libraries.  Starting off with three streams of project leadership, Library Systems (Karen Newbery), Web Experience (Tom Crichlow), and Application Development (Cory Lown), provides the Libraries new pathways to envisage how ideas can become successful and completed projects.  We hope creating these three streams will ease the engagement for stakeholders with project leaders, as well as create a reasonable pipeline and queue for evaluating and prioritizing prospective projects and ideas.
Project leadership requires executive support and broad awareness of the strategic priorities across the Libraries.  The new position of Director of ITS will oversee the portfolio of projects from ensuring that project timelines are properly defined, ITS staff are assigned to the right projects based on their strengths and capacity, expectation management with project stakeholders, as well as advocating for resources, changes to priority, and on going and consistent communication.  Because the project leaders do not have their own teams, ITS and DUL staff will have the opportunity to work with different leaders for various projects.  Balancing a limited number of project team staff across three (or more) parallel projects will require detailed planning, agility, and effective communication that we are searching for in the new Director of ITS.
Beyond the organizational changes, the Digital Strategies and Technology Leadership Team has begun to develop definitions and guidelines to help new projects start off strong.  Over the next couple of months, we will publish a wiki that documents what we believe are critical elements for the strong foundation of projects.  There will be definitions of projects roles, setting expectations from the start of roles and responsibilities, a template for a project charter that the project sponsor, project leader, stakeholders, and team can use to set the initial agreement for the project, and a guide for setting timelines and sprint planning so that project team members can manage their time within the project and with respect to other projects or priorities.
We look forward to sharing these ideas soon and continuing the conversations about the best ways to fulfill our ambitions and strategic directions together.